Hydrosave and SSI Services signs exclusivity deal with Curapipe Systems Ltd
SSI Services (UK) Ltd (an infrastructure services specialist and part of South Staffordshire Plc) has signed a long term exclusivity deal to operate the UK license for Curapipe Systems Ltd, TALR (Trenchless Automated Leakage Repair) technology.
Hydrosave – the pipeline management and leakage specialist within SSI Services, will operate the license and adapt the TALR deployment and site processes to meet the stringent requirements of the UK water industry along with the complexities of its established networks. Originally developed in Israel, the TALR technology has been tested extensively to repair leaks by the Jerusalem Water Utility and it has been trialled in both Italy and South America.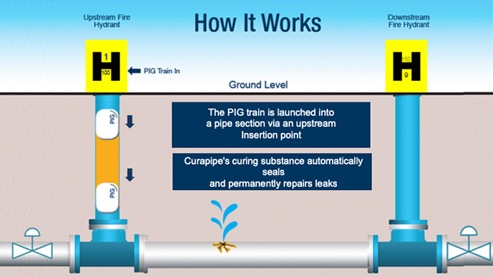 TALR works by inserting a 'gel type pig train' into a section of isolated pipe using a special deployment station via an existing fire hydrant or tapping position. The 'pig train' moves under pressure along the pipe at a controlled velocity and instantaneously seals all types of leaks with a special material which then hardens becoming structurally integrated into the pipe. The pig train is removed from the pipe using a specially designed retrieval system.
The process is very effective for repairing all types of leaks, on all materials, including the numerous small leaks that may be proving difficult to detect and repair. Curapipe TALR will complement existing leak repair or mains replacement techniques, but it will also have some obvious significant advantages:
No need to pinpoint leaks – simply quantify leakage volume or verify leak locations before applying TALR
No need to dig up busy roads – avoid major customer disruption using TALR
Mains rehabilitation: an alternative and complementary solution to deliver more for less
Repairs multiple leaks both on the mains network and on connection pipes in a single intervention
Repairs bulk leakage – including leaks that cannot be detected
Insertion is from an existing fire hydrant position or suitable tapping point
Reduced environmental impact
Health and Safety risk reduction
Simon Dray, Managing Director of Hydrosave commented: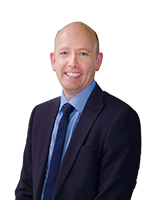 "We simply couldn't ignore the opportunity to work with Curapipe and we are delighted to conclude our deal having worked closely with them over the past 12 months. Together we will form a great team as we complement each other's skills sets. This repair process is an innovation that will transform leakage reduction and help the sector drive leakage to lower levels".
"Water companies have committed to ambitious leakage reductions in their new business plans and UKWIR have set a tone for zero leakage. It is important that companies like Hydrosave continue to innovate and adapt to exceed the outcomes of these business plans. We are pipeline management experts focussed on the prevention of bursts, improved asset performance, enhanced leak awareness and detection techniques. With Curapipe, we have the potential to not only repair leaks, but also to enhance pipeline performance for longer periods".
"A bulk leakage reduction system using an innovative repair technique is a 'game changer' and when applied in the correct circumstances the Curapipe TALR process is revolutionary for our leakage reduction strategies. We have proven this innovation is effective in repairing many types of leaks, including weeps from fittings, cracks, small fractures and corrosion holes. We have two training and demonstration sites, DWI approval is in place, and over the next 6-12 months we will be working on the methodologies to refine the pre- and post-inspection and application processes. The project to embed this as a new service in the UK is not without its challenges, but I believe we are the best equipped business in the UK to help come up with solutions to optimise the field delivery process on site".
"We already own several industry patents, partner several new technology companies to enhance Smart networks, have funded research for leak detection on plastic pipes and for several years we have sponsored a national water dragons innovation event with Future Water Association. With this Curapipe license we have invested in the future and, to some extent, we have taken a risk that our sector is open to new ideas. We believe the timing is perfect for something new".
"We are delighted to announce that we will be undertaking field based network trials in partnership with South Staffs Water, which are planned for early 2019."
South Staffs Water have commented – "We are committed to ambitious leakage reduction targets and see Curapipe as a vital tool in achieving this, it is great to be involved in this innovation and look forward to conducting the trials."
At this early stage of the innovation process, Hydrosave is now looking to engage with prospective water company clients. The intention is to hold initial user requirement design meetings to discuss how best to optimise the deployment and use of this unique 'Trenchless Automated Leak Repair' process.
To set up meetings or for further information, please contact: Simon Dray at Hydrosave on 0345 604 0656: or email – sdray@hydrosave.co.uk