Thames Water has today signed contracts worth a combined £200 million with some of the industry's leading suppliers to find and fix more leaks than ever before across London and the Thames Valley.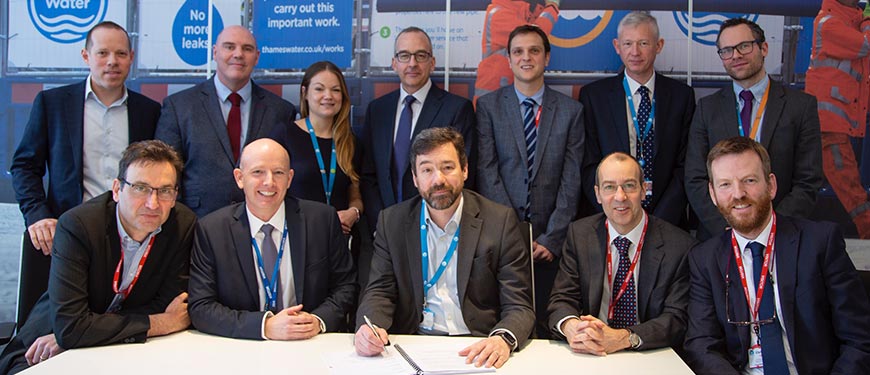 The contracts, awarded for an eight-year period, were signed at Thames Water's head office in Reading by its chief operating officer, Lawrence Gosden, and senior leaders from each of the contract partners. It is expected to save the equivalent of 172 Olympic swimming pools of water every day.
Under the agreement, teams will be using a range of leak detection methods including traditional sound tests, acoustic logging and desktop modelling to accelerate Thames Water's work to reduce leakage by 15 per cent by 2025. The new contracts have enabled the company to target higher leakage savings for 2019/20 from 370 million litres of water a day (mld) saved to 430 mld – an increase of 16 per cent.
As part of the new contract, due to begin on April 1, suppliers will be required to attend quarterly innovation forums to share the latest ideas, techniques and best practice. They will also support Thames Water's ongoing work to trace unaccounted-for water, including the illegal use of unauthorised and unlicensed standpipes.
The contracts have been awarded on a region-by-region basis and will be managed by Thames Water's three regional head of water networks.
Lawrence Gosden, Thames Water, said: "Reducing leakage is a top priority for the company and our customers, so it's vital we have the very best people working on it. Our partners will be challenged to be as innovative as possible to find leaks so we can get them fixed, especially those that are hidden underground and not visible from the surface. We are focussed on ensuring our network is fit to serve our customers now and into the future, and I'm confident investment on this scale will help us to achieve our ambitious targets."
As part of its £11.7 billion business plan for 2020-25, Thames Water has pledged to spend £2.1bn on increasing resilience and reducing leakage by 15 per cent by 2025, with plans to halve it in the longer term. In the first two months of 2019, more than 14,000 leaks were repaired by the company which is spending more than £1m a day to tackle leakage and improve its customer service. Thames Water's original target for saving water through leak repairs in 2019/20 was 370 million litres per day,
Quotes from partners
Hydrosave Managing Director, Simon Dray, said: "Our team at Hydrosave are delighted to be an integral part of the Thames Water leakage management strategy. We are totally committed to using the smartest technologies, with smart people and efficient operational management to achieve sustainable leakage reduction. I would like to thank Thames Water for this opportunity and their commitment to offer us a long term partnership".
About Thames Water
Thames Water is the UK's biggest water and wastewater services provider. We have invested more than £1 billion every year, on average, for the past 13 years improving service for over 15 million customers across London, the Thames Valley and surrounding areas. For an average of just over £1 a day for our households, we provide 2.7 billion litres of clean drinking water and safely remove 4.4 billion litres of wastewater – every day, 365 days a year. We are regulated by Ofwat, the Environment Agency and Drinking Water Inspectorate and, as part of our draft £11.7 billion business plan for 2020-25, propose to invest record amounts on improving resilience, service and efficiency, as well as providing more support for customers in vulnerable circumstances.